Senseless Sunday Sarcasm: Taxing
I've had a taxing day.  Litter-ally.
Every year I say the same thing.
I HAVE TO STOP THE TORTURE!!!
...and every year, this is what I do:
Except all those papers are shoved tighter than turkey stuffing inside cheap plastic drawers, conveniently located behind my desk.
There are two ways to stop this yearly self-flagellation.
 I could stop working (after which my brain would turn to cement and book publications would cease).
I could open each envelope and paper-clamp all of the electric bills together, the internet/phone bill together…
I can say, with absolute certainty:
First of all, my boss promised that I could keep my job until I die.
Second, I'm only organized when someone pays me to do it & I'm notoriously bad at paying myself.
Unless I wake up a billionaire and can send every last one of my D@%med receipts to my accountant and let HIM do it, this fantasy has a better probability of happening: 
Unfortunately, this is what my accountant says everytime I ask a simple question.
Questions like:
What do you mean I can't deduct my 32 D1/2 bras as work clothing?  Do you know how hard they are to find?
What do you mean I can't deduct the cost of editing?  My editor lives in South Africa and has no friggin' idea what to do with a form 1099!
Do I have to write down the interest from my savings account if it's 49 cents?
I think my tax accountant sees me like this:
Why, you might ask, do I have to itemize? (Another word for putting every piece of the minutia of my life onto an Excel spreadsheet).
I've worked at the same place since 2005, longer than most employees work there…but,
I'm considered self-employed as a consultant, and

Therefore; taxes aren't taken out of my check each month, ergo I can't have the delusion that I'm actually getting money back.
When you're self-employed, there are two million forms to fill out (at least it feels that way) and I am soooo like this when it comes to math: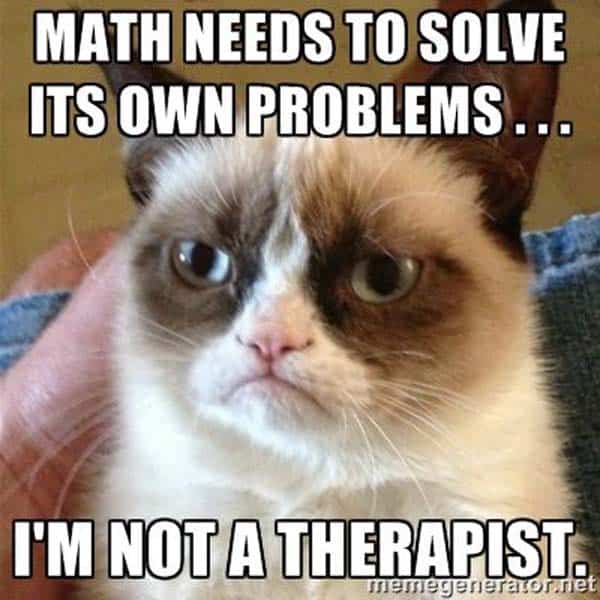 After paying the tax accountant, I have to pay about $400 in taxes.  I agree with Bill Murray:
Yep.  After tax time, all I have left is 49 cents in interest that lurks in my savings account, waiting for me to pour more money into it for next year's travesty.
Please, no advise on how I can avoid sorting through 2000 pieces of paper by throwing away the 200 that could have been tossed when I opened the envelopes.
There are only 3 certainties in life:  Death, taxes and procrastination.  I get to experience two of those each year.  There's only one way to stop the cycle:
…and I'm not ready to go there yet.