Senseless Sunday Sarcasm: All I want…
This was Florida just yesterday:
Yes, I live in Flor-dah, while the Mickey Mouse part of the state continues to live in the ozone.  At the tip, you'll find North Cuba.
Yesterday, I was at the office, comfortable in my sweater with turtleneck underneath, heavy jeans, and wool blend socks.  After all, it was 79 degrees outside.
Meanwhile, at the reception desk is a sweating person in short sleeves with a small fan blowing at her.
While underneath my office desk is an under-the-desk heater the size of her mini fan. 
So….I said, "I don't need A/C in the summer.  I think that anyone who lives in Florida and has to use air conditioning needs to move up north!"
She looked at me, sweat forming on her brow as I rubbed my shivering arms.  But if there's one thing she knows about me it's this:
She was waiting to find out which.
"Yep," I said,  "If all y'all needing A/C in July moved up north, it would make life so much better for the 10 of us who are left."
By that time, she was laughing, so I suppose my job is safe for another day.
<–You don't know how much truth there is in this statement.
Yesterday at 2 in the afternoon, the traffic flowed like a bottle of molasses left out in a Canadian winter.  One guy kept meandering and finally decided to turn, but first, he had to stop at the green light. 
In the meantime, it changed to red, and we had to watch his blinker go click…click…click until the light changed to green.
And then…then he went straight! 
His license plate said New York.   
We could've used a Humvee with a rocket launcher when he paced the car in the left lane!  He finally turned right a few miles down the road — without using a blinker.  
Why can't the temperature stay 80 during the day and 60 at night all winter long, and 95/80 in the summer? 
I suppose that will happen when all the people who can't take a heat index of 110 in July without A/C move someplace else.
And…yes…I like Christmas lights on Palm Trees and Santas wearing shorts.
In case you're wondering what I'm going to do for Christmas, here's my first priority:
I've told my children that I want one thing for Christmas.   ONE!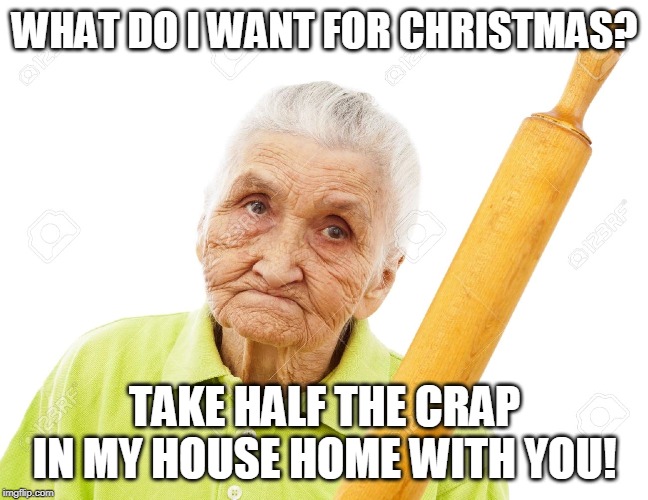 I know, it's not Thanksgiving yet, and I'm a turkey for making a beeline to the fruitcake factory.   But I've already purchasd the turkey, dressing, sweet potatoes, and cranberry sauce so, technically, there's nothing left to do except burn the house down when I forget there's something in the stove.